ABOUT PANDA TRANS
PANDA Trans is an integrated logistics company

We handle container freight of various types to offer integrated door-to-door delivery and clearance services
We offer customs, phyto, and veterinary clearance
We ensure tailor-made data interchange
We use advanced accounting systems, e-document management, and e-billing
Our skills and high professionalism make us flexible and responsive to your needs, and attentive to your freight and business tasks.
Our HQ is in St. Petersburg, yet our geography is as vast as Russia and spreads well beyond. We provide container transportation in the ports of St. Petersburg, Novorossiysk, and Vladivostok.
Our own fleet includes SCANIA and VOLVO trucks with semitrailers and container platforms, which allows us to rapidly deliver goods from the ports of St. Petersburg and Kotka.
OUR TEAM
Our team of high-class professionals has extensive working experience in transport logistics and clearance procedures. The vast experience and high professionalism of our employees helps in carrying out the most complex and extraordinary tasks.
The inviting working atmosphere inside the team, clear distribution of authority, and immense professional potential of each employee provides for a 100% effective and cost efficient logistic product.

‹ Prev
Next ›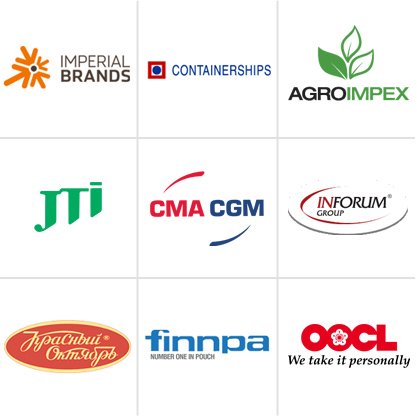 MORE THAN 20 MAJOR
COMPANIES HAVE BEEN TRUSTING US
FOR MANY YEARS
We are proud of our long-term relations. Many major customers have been using our services for more than 10 years.
Optimizing your transport costs
One of our ambitious targets is the minimization of our customers' risks and costs. To do so, we thoroughly research the transportation market, suggest various reliable logistic schemes, study the current legislation, standards, and regulations, and cut our own costs.
Ready logistics solutions for unconventional tasks
We have lots of ready logistic products in stock for you since 90% of the transportation is long-term repeat business. At the same time, we are always open to new challenges and ready to find the most efficient solutions of any complicated task.
We provide:
Efficient low risks logistics
Assistance in communication with authorities (customs, sanitary phyto veterinary agencies, etc.)
Attentiveness and convenient interaction
Detailed answers and analytics to any questions

Our quality principles
Efficient logistics product
High quality service and information support
Flexibility in operations
High level of analytics and regulatory support

Our values
Competence
Responsibility and diligence
Openness
Teamwork and comfortable working environment
Development and achievements

Our mission
€
To become a company that is nice and interesting to work with and for that can accomplish any and all importer/exporter tasks in the most cost-efficient, convenient, and smooth way We operate to help our customers totally focus on what they do best: buy, sell, and produce.

Our social responsibility
We create new jobs and offer opportunities to younger colleagues to show the best of them an exceptional salary. We give our staff the opportunity to open their potential and develop in order to increase the well-being and welfare of each particular family. We welcome personal and professional growth as well as enjoyment for work and recreation.
Our knowledge and expertise will become your competitive advantage.